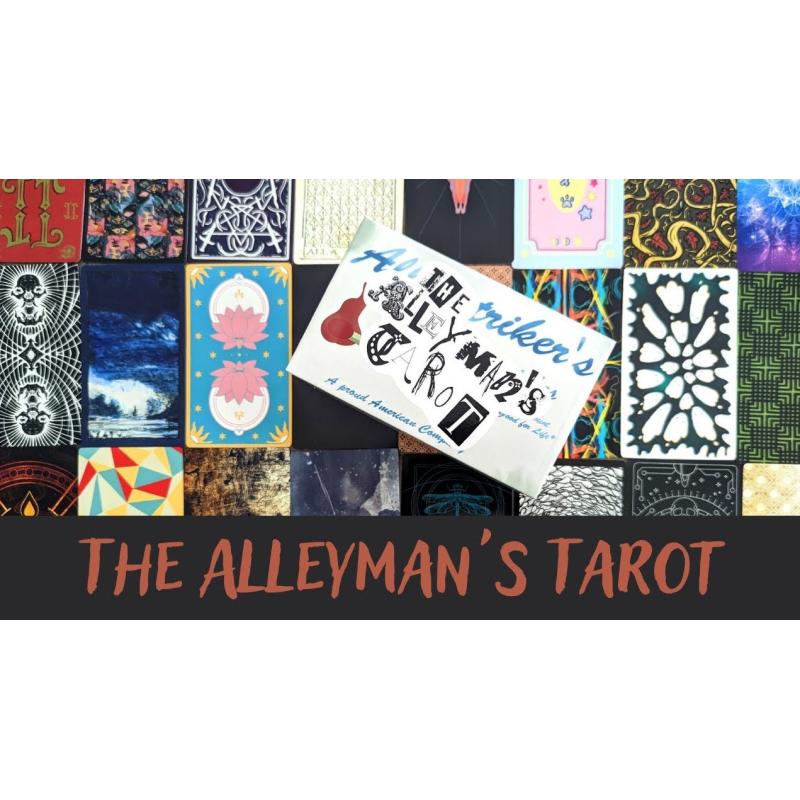 Tarot Coleccion The Alleymans Tarot (Publishing Goblin (EN) (Kick)
La baraja de 137 cartas con la que empezó todo. Esta baraja de tarot que no coincide se compone de cartas de más de cien barajas de tarot y artistas diferentes.
Viene en una caja rígida de dos piezas.
 El Tarot de Alleyman es una baraja de tarot de 137 cartas que no coinciden. Un artefacto del mundo real, fue hecho con la amabilidad de muchos otros artistas, en parte compuesto por cartas con licencia de otras barajas de tarot del mundo real, en parte compuesta por cartas que yo u otros artistas hicimos para la baraja, y en parte hecha compuesto de cartas independientes de barajas de tarot más antiguas, ahora de dominio público. Este mazo viene con una guía especial hecha específicamente para el mazo, escrita por el propio Alleyman, que explica las complejidades del mazo y el propósito de sus numerosas cartas.
The 137-card deck that started it all. This mismatched tarot deck is made up of cards from a hundred+ different tarot decks and artists.
Comes in a two piece rigid box.
The Alleyman`s Tarot is a 137 card, mismatched tarot deck. An artifact from the real world, it was made with the kindness of many other artists, part made up of cards licensed from other, real-world tarot decks, part made up of cards I or other artists made for the deck, and part made up of standalone cards from older tarot decks, now public domain. This deck comes with a special guide made specific for the deck, written by the Alleyman himself, explaining the intricacies of the deck and the purpose of its many cards.